CLEAR to CLAIM – Camp Lone Eagle Work Day
Want the best campsite for The Great Jungle Adventure? Join us for the Lone Eagle workday and you can lay claim to your preferred campsite during the work day!

Workday for The Great "Jungle" Adventure
April 9th, Saturday, at Camp Lone Eagle
Arrival Time: 7:30 am – Ends no later than 4:00 pm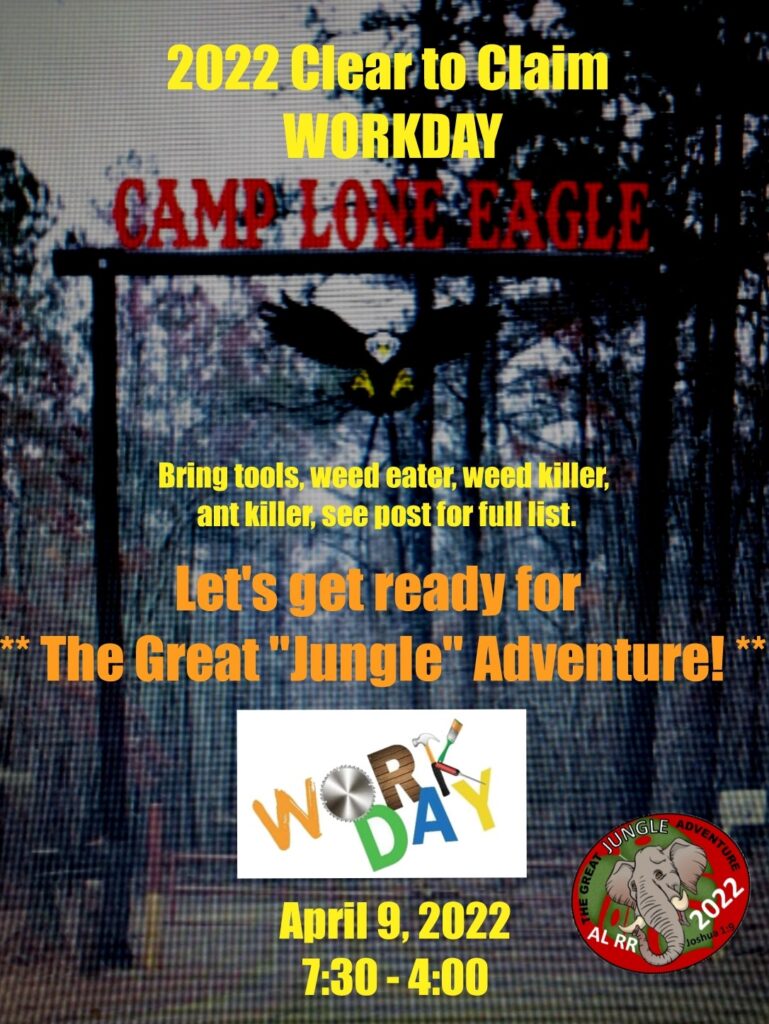 Volunteers/workers are needed!!! Come help clean our camp and make this a huge success. Churches/Outposts that have NEVER camped at Camp Lone Eagle can come to clear off an area that they can claim as their campsite for The 2022 Great "Jungle" Adventure!
Note: This site will be reserved for your church and the $50 reservation fee will be waived.
IMPORTANT NOTE: To reserve a campsite we will need an estimate of how many campers and tents your church will have. We are wanting to ensure campsites are the proper size for your group. This is a perfect time for all of our new campers to come and get a look around, a "lay of the land", so to speak.
If you have already reserved your campsite, YOU NEED TO COME AND WORK!!!!!! Perfect time to clear your campsite, put out weed killer and ant killer and see what else your camp site might need. Plus, you can help others that have never been to Camp Lone Eagle or an Alabama Royal Ranger Camp. All workers must stop at the headquarters building to check in with the Workday Commander (Foreman) for campsite locations or work duties
Bath Houses will be open
Campsites are first come first serve
Adventure and Expedition Rangers may come with adults from their church. (Discovery and Ranger Kids must be accompanied by their Father/Male Guardian.)
What to bring for workday:
Closed-toed shoes (no sandals, Crocks, or flip-flops);
Long pants; Long sleeve shirt;
Gloves
Water – Gatorade;
Snacks/Sack lunch
Sunscreen;
First Aid Kit;
Bug repellent
Weed eaters;
Machetes;
Axes;
Rakes;
Shovels;
Small Chainsaws;
Any other tools/materials you might think you need
Wasp killer
Weedkiller (Highly recommend. Once the area is weed eaten, you will want to kill the weeds and grass so they will not grow back before camp)
Ant killer
Trash bags
We want to encourage all outposts/churches to come help with the workday. We have a lot to get accomplished, so we need "all hands on deck". There is plenty to do around the camp. Plan on coming to help another church. Be a blessing. We have a bunch of churches and new outposts who have never been to Camp Lone Eagle. Come help them out. Come for all day or for a couple hours! Campsites can still be reserved for $50. First come first served! You must contact Bryan Watkins ( squawkingbird12@yahoo.com) and get your $50 sent in.PLEASE NOTE: Just because you have had a campsite in the past does not guarantee you will have that site this year. The Workday Commander (Foreman) will have a map with spots that have already been reserved. Don't forget, it's "first come – first served".This is going to be a great camp! Boy's and men's lives will be changed!! Hearts will be given to Jesus, people healed, and called into ministry! We can't wait to hear how God has moved.
COME MEET US AT CAMP FOR THE GREAT CLEAR AND CLAIM!!!